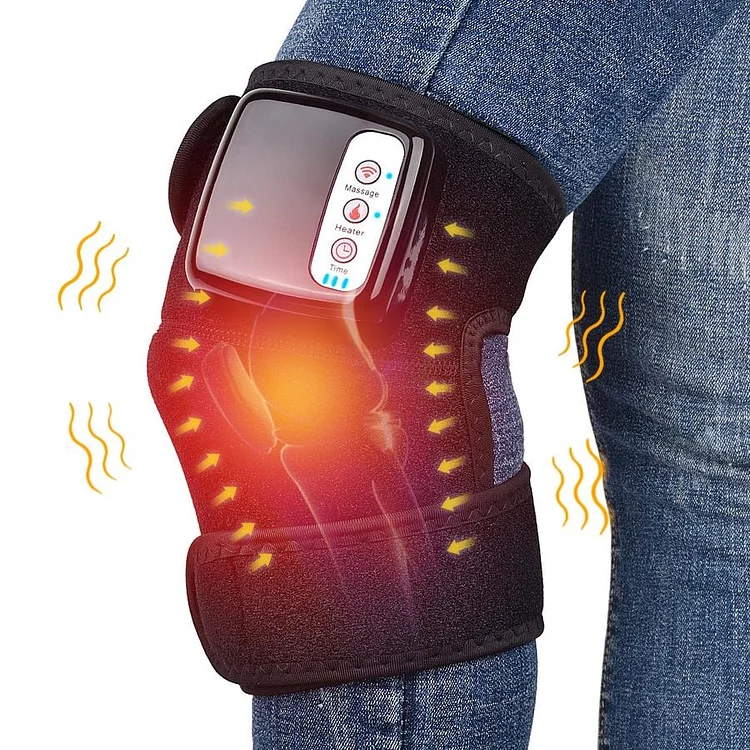 WHY DO I NEED THIS?
Everyone knows that Joint Pain is bad for long term health. If you're in working on your feet all day or completing lots of physical activities, chances are you suffer from joint pain.
When poor Joint Pain is not fixed, it slowly leads into more problems. Some common problems that result from Joint Pain are: Headaches, Muscle Fatigue, Body Aches, Back Pain,
Restless Legs and Poor Posture, and in more serious cases Joints fusing together forming Arthritis together and causing Mobility Loss.
The MrWalkWell™ Joint Physio Massager™ - 3 in 1 Heat + Massaging Knee Shoulder & Elbow Brace is here offer Natural Relief to Aching Joints / Arthritis
without the use of Nasty Pharmaceutical Products which long term problems are well documented.
The MrWalkWell
Joint Physio Massager™ is guaranteed to relieve Joint pain from your first Session or your money back, no questions asked!
HOW IT WORKS
 FEEL A DIFFERENCE  IMMEDIATELY
It's easy to see how Joint Pain Sufferers can lack the confidence in their bodies to do the simple and enjoyable things that can easily take for grantedbut did you ever wonder how good it feels having your joints naturally reenergised and invigorated drug free from the comfort of your own home ? Especially good that comes naturally from wearing the MrWalkWell Physio Massager for just 1 hour per day for Immediate Relief.
 

LISTEN TO THE DIFFERENCE YOURSELF. 

 

"LOOKING BACK, I CAN'T BELIEVE I WAS LIVING MY LIFE PUTTING UP WITH THE RESTRICTIONS OF MY SORE KNEES GAVE ME DAY IN DAY OUT. IT WASN'T UNTIL WEARING THE MR. WALKWELL PHYSIO MASSAGER THAT I REALISED I DIDN'T NEED TO PUT UP WITH IT OR RELY ON PAINKILLERS GO TO.THIS IN ITSELF WAS HAVING THAT BIG OF AN IMPACT IT HAD ON MY CONFIDENCE AND MOOD. NOW THAT I CAN GET THAT RELIEF ON MY KNEES ANYWHERE ANYTIME AND THE ADDED BENEFIT OF BEING ABLE TO WEAR AROUND THE HOME AND GOING ON A WALK I FEEL BETTER INSIDE AND OUT. EVEN MY FRIENDS HAVE NOTICED!

  

" -KAREN L. CHICAGO, IL

 
WEAR IT ANYWHERE!
FEEL THE MRWALKWELL™ DIFFERENCE FROM DAY 1
Don't worry about having to wait around for your joins to feel fresh and youthful again. Your Joints feeling soothed and fresh as the Joint Physio Massager™ gets to work from your first session.
Plus, our sleek and easy-to-adjust design allows you to wear Mr. WalkWell Physio Massager™ wherever life takes you. Fits Seamlessly  over T-Shirts, jackets, Jeans such is the comfort you wont notice it on whilst going for walks, playing golf,  or even driving those long trips all while utilising Cordless and rechargeable Design with a charge time of up to 2 Hours including time setting with safe over heating protection, set to 5 minutes, or up to 2 hours with automatic shut-off which can be adjusted according to your needs. 
A LONG TERM FIX
Joint Physio Massager™ not about a quick fix. When your body adjusts to consistent use of our Physio Massager you will begin to reap the benefits of its intelligent design utilising both Vibrating Massage at High frequency  which is designed to relieve Joint Pain, Muscle Stiffness , and Joint swelling 
In addition to the healing benefits four Jade Stones which not only offers a relaxing massage experience but also helps heals and discharge toxins , slows ageing process and strengthens the body's natural immune system.
Once you feel the difference after more and more use, You'll notice less and less restriction of movement and getting back to more of what you love doing.
MULTIPURPOSE
Extreme Durability
our Joint Physio Massager™ is made up of high-quality copper motor and neoprene material that last for years to come!
SPECIFICATION
Temperature control range: 45-55 degrees
Body care areas: knee pads, leg protectors, shoulder pads
Color: black 
PACKAGE INCLUDED
1 x Knee massager
1 x Adapter
1 x User Manual